Mrs. Sophia Duker (nee Debrah)
---
---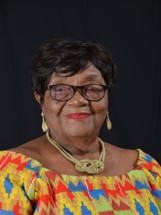 Family Background:
Mrs. Sophia Duker, nee Debrah, was born on the 16th April 1942 in Koforidua in the Eastern region of Ghana. She was born into a strong Methodist family. Her parents were the Right Rev Moses Kwasi Debrah of Koforidua and Mrs. Mary Comfort Debrah of Effiduase, both in New Juaben.
Her grandfather, Opanyin Kwabena Debrah was a member of the team that went to Aburi to invite the Rev Thomas Birch Freeman to establish a Methodist Church in Koforidua. Her uncle, Opanyin Kwasi Agyei Debrah was a carpenter who roofed the present Wesley Cathedral in Koforidua. Her maternal grandparents were also Methodists and the family remained Methodist to date
Education:
---
---
Rev Moses Debrah, Mrs. Sophia Duker's father was a schoolmaster before he joined the ministry and therefore served in several towns including Akim Swedru, Tarkwa and Koforidua. Mrs. Sophia Duker's therefore Mrs. Sophia Duker's preschool education started at home.
In 1932 to 1938, Mrs. Duker attended Mmofraturo Girls' boarding school. She was taught by prominent missionaries including Miss Persis Beer and Miss Grubb. Other African teachers included Mrs. Margaret Ansah (she is alive today) and Miss Christiana Clegg and Miss Agnes Effah.
Mrs. Duker graduated with distinction and gained admission to the Achimota Teacher Training College. She studied there from 1939-1942 and graduated with a 2nd class Certificate.
In 1949, she was granted a scholarship to study at the School of Oriental and African Studies, London University.
From 1950-1952, Mrs. Duker studied at the Institute of Education, London University.
Work Experience:
---
---
Mrs. Sophia Duker was posted to Mmofraturo, her alma mater in 1943 after she graduated from her Teacher's training course. She taught Standard Seven and later Standard Four. Under her tuition, her students gained admission to the prestigious, Wesley Girl's High School in Cape Coast. Mrs. Duker was later posted to Wesley College, Kumasi in 1952 and left in 1955 to join her husband, Mr. K. A. Duker in Accra, where she taught at the primary section of the Government Girls School, Burma Camp Primary School and served as head teacher of the Rangoon Primary School. Mrs. Duker joined the staff of the Ghana International School in 1963, where she taught for 23 years, the last 11 years of which she served as the Head of the Primary Section.
She retired in 1986 and set up her own pre-school and child development center. The objective of the Learning Skills Centre was to give children in Accra a firm and broad based education to help them understand the basic skills upon which they would build their future education. It is worth noting that today this school has grown from an enrolment of 15 pupils to 250 and has placed numerous children in the first cycle schools of good repute.
Family:
---
---
She got married to Mr. Kodwo Arhin Duker, an engineer, in 1952 and the marriage was blessed with four children, two boys and two girls, namely, Lysbeth, Sophia, Kwamina and Ekow.
Church Work:
---
---
Mrs. Duker has served the Methodist Church Ghana in the following capacities:
Member of Women's Fellowship, Calvary Society to date;
First Circuit President, Women's Fellowship, North Accra Circuit —4 years;
Diocesan President of the Women's Fellowship 2 years;
Class leader and Local Preacher to date.
Together with Mrs. Barbara Opoku, Mr. D.T. Ackah and Mr. Emmanuel Atta Peters, Mrs. Duker founded the Calvary Methodist Vocational Institute and was a member of the board for 28 years. At the Diocesan level, Mrs. Duker has served the Methodist Church in the following positions: Treasurer, Women's Advisory Committee, 1988-2005;
Member, Standing Committee since 1985;
Also as Board member, Accra Wesley Girls' High School;
Member of the Oversight Committee for Hope for Teenage Mothers;
Diocesan Chief Patron, Girls' Fellowship and Chairman of Lay Movement, 1986-1995;
Member, Accra Synod and Member of several Diocesan Committees.
At the Connexion, Mrs. Duker has served on the Boards of Education and Youth Ministries: Social Responsibility and Rural Development; as Chairman, Connexional Women's Division; Registered Trustees, Methodist Church Ghana — 1994 to date; Conference member, 1985 to date.
Mrs. Duker is one of the award winners nominated by the Accra Diocese for the 170th anniversary of the Methodist Church Ghana. She is also a Life Member of the Bible Society of Ghana and is a Patron of the Effiduase Church Choir, New Juaben.
Social Work:
---
---
Mrs. Duker helped establish the Girl Guide Movement at Mmofraturo and rose to the rank of Commissioner. She joined the YWCA in Kumasi in 1952, continuing her membership in Accra and held the following positions: Honorary General Secretary for 6 years; Secretary of the Membership Committee for 6 years; Vice President for 3 years and current member of the Board of Registered Trustees.
Mrs. Sophia Duker has been a role model for many of the younger women of the church and her wise counsel has helped to shape and direct their lives. She has been a trailblazer for many, young and old. From a very humble beginning, she has been blessed by the Lord in various ways to make a difference and impact the lives of many in both the church and society